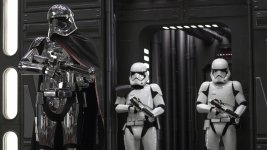 ​
The University of South Florida Polytech has been under fire lately for spending too much and using their money for what two Sunshine State senators call unnecessary expenditures. So when they purchased a seven foot Darth Vader statue, an Imperial Stormtrooper that needs a new hand, Captain Kirk's chair from Star Trek and an ET replica for $10,000, they were bound to catch even more blaster shots from the legislature.
But as a fan, one has to appreciate the college's rebuttal to their critics. They say that the items in question are part of a bigger picture in which they are trying to spur inspiration and creativity among students in the same way that Google offices bring forth their imaginative ideas. The search engine giant is famous for having a work place that is filled with everything from toys to bean bag chairs to air hockey. And there is something to be said for that. The creative souls behind some of the biggest sites found out a long time ago that if the environment is cold and lifeless, that people aren't going to be thinking up their best ideas. By providing a workspace that they enjoy coming too, they not only get more productive employees, but ones that have the inspiration they need to think not what is, but what could be. And USF Poly feels that if they can provide that same type of study area that their students will also excel in these regards.
It's hard to argue with logic like that, especially since I've known so many people that thrived in these laid back, almost playful environments. To me, the purchase of these items for the reason they state isn't any different than buying art for the wall. What difference does it make if it's hanging on a nail or standing on the floor? Yeah, it may seem a waste to those that don't understand the significance of what these things represent, but an inspiration to those that understand what it took to bring life into them. Despite George Lucas or Gene Roddenbury's faults, they were still creative geniuses that thought far behind our time and into the future. Who wouldn't be inspired by that? These have to be more inspiring than a generic painting of flowers or nicely arranged plants.
And besides, is there anything more motivating than having Darth Vader breathing down your neck? I don't think so.