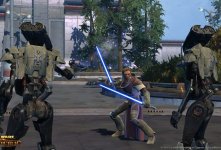 ​
After a year of hype, the opening of Bioware's Star Wars: The Old Republic MMORPG is almost here and for some of us, that date is even closer than others.
For those holding pre-order codes, now is the time to redeem those codes at the official
Code Redemption Center
. How fast you do this will determine how much early access time you'll have, so you want to do it as quickly as possible if you have one. Once you enter the code, you will be sent an email on how to proceed to the next step, which is downloading and installing a game client that will sit pre-loaded on your computer. Once your time comes, you will be able to access the game and start playing it quicker than you can say "Light speed to Endor…" Okay, maybe not, but still it's pretty quick and a cool way to get people into the game.
The not so cool part, though, is that the client is probably a huge download based on what they are saying is the final size of 27GB after install. Even with modern day compression techniques, it has to be a pretty decent sized grab and so high speed internet access is really going to be a necessity, along with a bit of a wait time. But you will not be able to participate in the early access if you do not have this pre-loaded and ready to go, so you definitely want to do it.
BTW, if you were testing the game for the developer prior to the November 25 beta weekend, you are asked to uninstall your old version and install the new Game Client, else you will most likely have problems when the game launches.
How long the early access runs will depend on when you get the client and when your number comes up in queue, but they guarantee that everyone who does both after redeeming their pre-order code will get some time before the official launch on December 20, 2011 at 12:01am EST. There will also be a short period between the early access and the launch time to give them time to reset the servers and start the game fresh. During that time, early players will not be able to play. When that will occur has not yet been announced.
Bioware will also be sending out invitations as well to remind people to get their pre-order codes entered and how to download the client.
So excited? At least I heard, there were already almost 2 million people signed up.