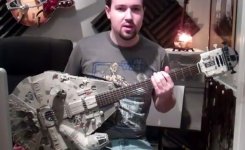 ​
Is it just me or do you think that Han Solo probably would have rocked out to an electric guitar in his spare time? If so, he probably would have liked one that was based on the ship he held so dear, the Millennium Falcon. The smuggler no doubt would have really liked the one by BFisk89, a songwriter and singer. It may not have been the first, but it certainly is the most elaborate, with all the sorts of features that Star Wars fans would drool over. And actually it's for sale if you want to buy the one and only creation.
No one ever said that guitars had to be a specific shape and that they couldn't be round, which made the Millennium Falcon the perfect choice. Add a board of frets to it and a headstock and you have a guitar. Of course, it's far more complicated than that. It takes a lot of musical knowledge and craft ability to do this sort of thing. He had to basically gut one of the larger toy models and custom cut the pieces for the bridge posts and pickups along the body. That couldn't have been easy, but he was fortunate in one respect. The raised missile tubes made for a great location for the pickups to the fretboard, that he built himself.
All of that led to the headstock, which is at the top of the guitar and where the strings are tuned. If you ever notice, it kind of looks like a robot on some guitars and so he made it into one, our favorite little droid, R2-D2. He even painted the tuning pegs to match. Something that others had not ever conceived of which makes this one truly unique.
But it wasn't enough to just make a Millennium Falcon model into a guitar. Like most things in the Star Wars universe, it had to have some of the effects that we know and love and his does. It still has the original sound effect system from the model intact. So at the touch of a button, he can get it to sound as though it's swooping through space or firing a laser cannon. It also has a hyperdrive unit in the back lit up with cool blue lighting that looks as awesome on stage as it does in the movie.
He mentions at the end of a video he made that he is wanting to sell the guitar, but he wasn't clear on any sort of price or whether it was still available. But if you want to inquire, you can send him email at the address shown in the video above.
What made us hopeful for the future and created a bit of chuckle among us was that a website asked him what his next project would be and his reply was a Death Star Banjo. That would probably the most awesome thing ever. Who wouldn't love hearing the Imperial March played on that?