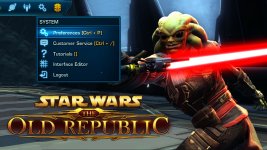 ​
Well for some lucky souls, yesterday marked the opening of Star Wars: The Old Republic's early access, but only if you were the chosen one. But we knew that. EA/Bioware has always said that the pre-opening launch will be a tiered affair. That they would be letting people in slowly so as to ramp up their servers in a more controlled manner to avoid what has plagued some launches, and that is downtime because the servers couldn't handle the load. The problem is that for some, they will get around 6-7 days of play, while others may only get 1, which is sure to leave a bad taste for those who get the short end of the stick.
But not getting a first day look isn't all that has those who pre-ordered a physical copy of the game upset. In past MMO launches, the companies understand that there could possibly be delays in shipping and so they allow what's called a grace period. This time, usually 5-6 days after the official launch, gives players peace of mind that their experience won't be interrupted while they wait for their copy to show up on their doorstep. But that's not the case here.
Initially both Bioware and EA promised that like their predecessors, there would be a such a period, which was a smart move considering they are launching the game square in the middle of the holiday rush where delays are not only expected, but commonplace, especially to countries like Australia and the UK. But now the community manager for EA/Bioware Stephen Reid says that there will not be any sort of grace for late arrivals and so some early access players may find their access cut off until they are able to enter the code. This has the ones who are the most adamant about getting on board, having their games pre-ordered early, fuming mad as you can imagine. What possessed them to change their mind is beyond me. Perhaps they are worried about piracy, but they shouldn't punish their most impassioned customers in order to thwart what might be.
Hopefully if EA/Bioware is going to play that game, the copies are already out on trucks headed for people's houses, otherwise there is going to be a lot of bad blood for those people can't access the game when it launches, even though they've been playing it for days. What are these guys? Laser brains? Unbelievable.
BTW, if you haven't got your golden ticket yet for early access, it's most likely on its way if you've entered the pre-order code (not the same as the game registration code) into their Online Redemption Center. If not, you need to do so ASAP to even have a chance of getting at least a day to play early. If you have entered the code, you will also need to download the game client as well to enjoy the early access. Instructions were sent out when the code was entered on how to do that.