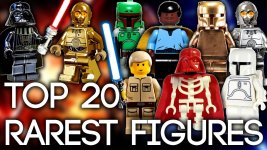 ​
During my travels in the Lego world, I have come across many rare and collectible Star Wars minifigures. Some of the more sought after are the Gold and White versions of Boba Fett, the Silver version of C-3PO, the Pre-Vizsla, and the wooden Sensei Wu prop from the Ninjago Movie.
Gold version of Boba Fett​
Among the most popular and well-loved characters in the Star Wars universe, Boba Fett is one of the most collectible Minifigures available. He has a carved body, realistic armor denting, and is even adorned with Mandalorian skull symbols. Boba Fett's resale value is very high. He is one of the rarest LEGO Star Wars Minifigures, and is available in a number of different variants.
In 2010, LEGO produced two Boba Fett Minifigures in solid gold. They were given away at a special Boba Fett giveaway during the Star Wars Celebration V convention in Orlando, Florida. The set was a limited edition and only two were produced.
Silver C-3PO​
Among the many Lego Star Wars Minifigures available, the Solid Silver C-3PO Minifigure is the fifth most valuable Minifigure in the world. It was given away as a raffle prize during the Star Wars Celebration IV fan convention. The value of this Minifigure is estimated to be $34,000. It is worth much more than the precious metal Boba Fett Minifigure.
The Solid Silver C-3PO Minifigure is a unique LEGO Star Wars Minifigure. It is made from pure sterling silver. It has a premium look and incredible attention to detail. It was produced one time.
Gold version of George Lucas​
Amongst all of the Lego star wars minifigures, a few are the most rare. These are the ones that will be most sought after by collectors. Some of them are even worth millions of dollars!
While you may not have the chance to own a solid gold or silver version of these figures, you will have a chance to own a piece of George Lucas. His prototype is the real deal, and you'll want to get your hands on one of these.
One of the most valuable Lego Star Wars Minifigures is the gold version of George Lucas. His prototype was created in 2010 as a promotional gift for the Star Wars Weekends at Disney theme parks. This version of George wore a wavy gray hair piece and plaid button shirt torso. He comes with a chunky Perspex case and a numbered authentication cardback.
White Boba Fett​
WHITE BOBA FETTS are a very rare LEGO minifigure that is only available through Bricklink. The White Boba Fett minifigure was released in a White Boba Fett Minifig and Star Wars Character Encyclopedia set.
Boba Fett is one of the most popular characters in the Star Wars universe. He made his first onscreen appearance in the 1978 Star Wars Holiday Special. Boba Fett has also appeared in the original trilogy, the prequel trilogy, and in Lego Star Wars II: The Original Trilogy. He is also a playable character in Lego Star Wars III: The Clone Wars.
Pre Vizsla​
During the Clone Wars, Pre Vizsla was a leader of the Mandalorian Death Watch. He was a highly skilled fighter who was capable of holding off a Jedi knight in a duel. However, he could not outshine Jedi Knight Obi Wan Kenobi.
Pre Vizsla is an ancient descendant of Tor Vizsla, a warlike warrior who hatched a plan with Count Dooku to conquer Mandalore. However, the Darksaber that Pre Vizsla wielded was stolen from the Jedi during the fall of the Old Republic.
Vizsla's armour is distinctive Mandalorian armour. It has a dark stone grey chest plate and a bright blue gem shaped piece in the center. The armour is also equipped with a balster, which allows the fighter to perform flying or landing maneuvers.
Mr. Gold​
Known as the "golden one," Mr. Gold is a LEGO minifigure that was released in 2013. It was part of the Series 10 Minifigures theme, which was released in February 2013.
Mr. Gold is a very rare LEGO minifigure, as he was only made in 5,000 copies worldwide. His rareness has helped the figure command a very high price. Depending on the condition of the figure, the price can range from $3000 to $4000.
A prototype of the Mr. Gold LEGO minifigure was released at the 2010 San Diego Comic-Con. The figure has an exclusive head and a wavy gray hair piece. It also has a plaid button shirt torso. It was made as part of a prize for visitors at the show. It was housed in a chunky Perspex case.
Ninjago Movie wooden Sensei Wu prop
Among the most rarest LEGO Star Wars Ninjago Movie Minifigures is the Sensei Wu wooden prop. It's a screen-used prop that's been polished and waxed to accentuate every detail. It's made from the finest dark wood and is estimated to cost $104,500.
This LEGO minifigure was held by Jackie Chan in the movie. It is constructed from the finest dark wood, waxed, and polished to accentuate every detail. It is one of the most expensive LEGO minifigures in the world.
Sensei Wu is an expert ninja who was trained by the legendary ninja master Kaito. He has a sage-like white and gold robe and old-style pilot goggles. He also comes with a basic hot air balloon, which is used to carry a bucket.