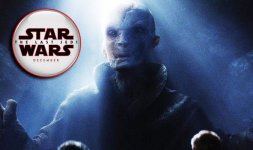 ​
Lucas finally revealed after a lot of speculation last week about what Star Wars Identities was referring to. The company bought a ton of domain names on the title, even including typos, which sent the fandom into a spin with thoughts of everything from a new series, a new film, toys, etc. But none of us had pegged this one. Course in all fairness, we didn't have much to go on.
In reality, Star Wars: Identities is the moniker chosen to represent a unique museum experience coming to the Montreal Science Center in Summer 2012. It will focus not so much on the film making techniques and science behind the tech, but a focus on the characters and how they developed throughout the movies. Through the use of props, photos, films, etc, from the Lucas archives, guests will learn how each hero and villain in the Star Wars universe came to be who they are. It will ask what shaped their personal identities and in studying these guys and gals, creators hope that visitors will question and explore who they, themselves, are and how their own experiences have shaped their own niche in the world.
[video=youtube;X6ZKncXkCWM]
The use of Star Wars memorabilia in this way is truly unique. But they don't plan this to be simply a "show you stuff" type thing. Oh no. Cleverly intertwined from start to finish is an Identity creating interactive system that will actually figure out what your own personalized place in the Lucas universe is, based on both reality and Star Wars lore, so that by the time you reach the end, you'll have your own place in the galaxy, which is pretty cool. This bit alone is worth the price of admission, especially I would think that people who role play and really want to be uniquely identified to others would find great value in something like this. And since there is a website, I'll bet you ten to one that you'll get to publish its findings, displaying your new identity to the world in sort of a galactic map of souls.
The experience, orchestrated by LucasFilms and Montreal's X3 Productions, will run from April 19, 2012 to September 16, 2012 at the aforementioned Montreal Science Centre. I would hope after it debuts in Canada that it would find its way to other cities for people who can't travel that far as I think it would play well above and below the Canadian border.