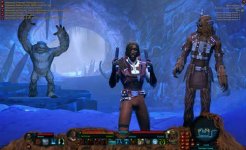 ​
For those of you who have yet to take the plunge into the world of Star Wars: The Old Republic, have they got a deal for you. Bioware is offering a free weekend to get your feet wet and hopefully bring more members into the dark side (and the light side too). But supplies are limited and it's only for people who never played the game before at all.
The trial begins on Thursday afternoon March 15 at 12:01 CT and will require the player to sign up and download the game client, which I'll be honest, is pretty huge. While the Star Wars official site says several hours, those with faster connections probably won't take that long, but it's still kinda brutal a wait. Then you'll have until Monday March 19 at 2:00am CT to play for free, with some restrictions, but certainly enough to get an idea if you want to continue. All servers are available including Player Versus Environment, Player Vs. Player and Role Playing.
During the trial, you will not be able to push your character past level 15, travel to other areas besides the Origin World, Capitol World, the Fleet, the Warzones, and the first Flashpoint. You will not be able to chat in anything but the local chat systems (such as guild, group chat, whispers). You will also not be able to send or reply to emails by other trial members, but you can read any emails you might get while participating in the trial. You will also not be able to participate in the Galactic Trading Network, earn Legacy XP points, or level your crew skills to over 40. These may seem like a lot, but there is still a ton of things to do during your time in the game that you probably won't miss these.
After it's over, you will not be able to login again until you buy the game and possibly a subscription, but if you don't have the cash right now, you can hang tight for a bit. Bioware says that they don't have any plans to delete accounts made up during the Free Trial. So when and if you do join, you won't have to retrace your steps. They did, however, say that they reserve the right to do so in the future with abandoned accounts, so if what you did up until that point is important, you might not want to wait too long.
You can sign up for the free trial here, but you won't be able to actually download the client until the 15th. Again you might want to get in just as it opens, because apparently they are only opening so many slots, so you definitely want to reserve yours early.
Oh, and if you have a friend who's a Star Wars fan, SW:TOR also now has 7 day free trials as well for those who haven't played, with pretty much the same restrictions as above.
Have fun…