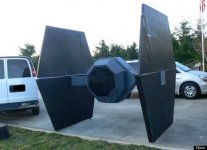 ​
This edition we have an ad that wasn't meant to be viral, but wound up being that, a video that the ad agency hopes will be viral, and a sneak peek at a new book from Timothy Zahn which tells the story of Han's darker side. So let's get into it.
A fan placed an ad for a TIE Fighter replica on Craigslist Seattle. He didn't expect to get a lot for it, offering at it $150 or best offer. But the unique 1/3 scale model, though not incredibly detailed, became an overnight sensation when popular blogs started picking it up and it went viral. When it did, the man said that he got a ton of inquiries, both email and calls, on buying it, and while he wouldn't say what he sold it for, it's a pretty sure bet it was probably more than the $150. The TIE Fighter, which features a cockpit that a person can actually get in (up to 300 pounds), was originally created to help his son raise money for the church, but the fan also used it as an opportunity for a bit of a math lesson, since building it required quadratic formulas. This isn't the first ship he's built. He also made an X-Wing as well.
Speaking of ships, what is that in the sky? Is it a cloud? OMG It's the Death Star hovering over Copenhagen. But what is it doing there? Well, it's not real, but a clever ad from a Dutch agency to advertise the Star Wars toys at the game retailer. The advertisement is full of Star Wars goodness from the battle sphere hovering over the city in Denmark, shot from what looks like a home video camera, the TIE Fighter buzz and finally the Imperial Shuttle landing in the parking lot, much like it did on Endor. I don't speak Dutch, but I would assume it says "Darth Vader has Landed" at the end. I've embedded the video so that you can see it for yourself above.
Finally, Timothy Zahn is the ultimate writer in the extended Star Wars universe. His ideas and concepts have even made their way into the Lucas' own empire, but his latest book is certainly one to look for when it hits bookstores. Assuming that Han didn't get the treasure that he thought he'd get to pay to Jabba the Hutt, or he gave it back out of deference to the cause, he's still being hunted by the bounty hunters after the events of A New Hope. In a desperate move to pay back what he owes and gain his freedom, he agrees to take on the task of robbing one of the crime lords of the galaxy. But to do this, he must assemble a team, like Fast Five, of specialists in various sinister tasks, to pull it off, along with Chewie and Lando. The story sounds really intriguing and can't wait to read it. Perhaps we'll get more insight into the relationship between Lando and Han and how that "You have a lot of nerve coming here after last time" comment came to be. But don't get too excited, Star Wars: Scoundrels won't be out until December 26, 2012. In the meantime though, if you have the chance, get a few of Zhan's other books. They are an awesome read.
And that's all the news we have for this edition. Thanks for reading.